I have myself running in circles today. Apparently I totally forgot the February 14 was a holiday and scheduled a garage appointment for 8:00a. Oy. While making heart shaped pancakes for the kiddos I'll be doing my hair so I can leave on time. Then my car's air bag repair and inspection better not take too long because I need to get home and start some serious baking. But wait there's more. After dinner we have our second redo tax appointment. Can you say overbooked?
Reminder, don't forget to link up and join in the fun tomorrow.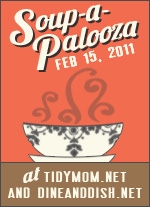 Dessert of the Week
:
Chocolate No Bake Cookies
&
Homemade Oreo Cookies
Monday
:
Lasagna Soup
Tuesday
: Fend for Yourself ;o)
Wednesday
: Some Sort of Chicken & Twice Baked Potatoes
Thursday
: ???
Friday
: Pizza
Saturday
: Hamburger Barbeque & Curly Fries
Sunday
: Steak & Gnocchi